DIY: How To Make An Affordable & Effective Mosquito Trap
By Mac Slavo
Now that summer is in full swing, most of us already know that obnoxious feeling of getting bitten by a mosquito. But, making a homemade mosquito trap could help keep you from getting bitten by the pesky and annoying bugs, and it's easy! Because a trap will prevent bites, it will help keep you safer from contracting some of the diseases carried by mosquitoes, such as West Nile virus, Zika, or Eastern Equine Encephalitis virus.
You can easily reduce the number of mosquitoes on your property with a simple do-it-yourself plastic bottle trap that will attract and kill the mosquitoes. The liquid in each trap will last about two weeks, and then it can be easily replaced! You could also make more than one to increase the effectiveness of the traps and drastically reduce the number of mosquito bites you get. The best part is that all of the items needed can be found at your local hardware store. Many people will already have everything on hand though!
Widget not in any sidebars
ITEMS NEEDED:
An empty, plastic 2-liter bottle
A marker or pen
A box cutter or scissors
A tape measure
1/4 cup brown sugar
1-1 1/3 cup hot water
1 gram of yeast
Measuring cup
Tape (duct, scotch, or electrical are fine)
INSTRUCTIONS
Mark the bottle about four inches below the lid. Use a measuring tape if you'd like. Cut the bottle of here using your scissors or box cutter. Keep both parts of the bottle! Next, heat up 1 1/3 cups of water. It doesn't have to be boiling, steaming water is hot enough to work. Pour the water into the bottom half of the bottle you just cut and add 1/4 of brown sugar. Allow the water/sugar mixture to cool then add one gram of yeast to the mixture.  Do not stir the yeast in. Grab the other half of the bottle and turn it upside down, so that the lid opening goes into the bottle with the water/brown sugar/yeast liquid. Make sure there's enough space for a mosquito to get inside, if there is not, empty out some of the liquid. Use the tape to secure the two parts of the bottle to each other. Place it wherever people are getting bit by mosquitoes!
The finished product should look something like the image below (courtesy of Desertification):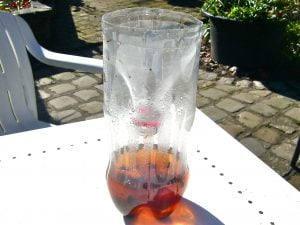 Smaller bottles, such as bottled water bottles can also be used. Just make sure you use less liquid so the trap will still work. Here is the one I made from a 1-liter plastic bottle I had laying around:
Also, make sure you remember to bring these indoors if it starts raining to prevent the traps from going bad early.  Excessive rain will render them ineffective. This is also a great way to reuse plastic bottles helping boost your sustainability.
With all of the infectious diseases mosquitoes can spread, protecting ourselves from being bitten is the best way to ensure we remain healthy. How does that saying go? An ounce of prevention is worth a pound of cure.
Stay healthy!
---
This article was sourced from SHTFplan.com
Image credit: Pixabay
Subscribe to Natural Blaze for health freedom and natural living headlines to your inbox. Follow Natural Blaze on Twitter and Facebook.