Woman Beat Deadly Blood Cancer With Turmeric After Chemo Failed
By Heather Callaghan, Editor
A British retiree is turning heads the globe over after she completely reversed her myeloma using only a component found in turmeric – after multiple rounds of chemotherapy and stem cell transplants failed to stop the disease.
Hers is the first medically recorded case of its kind and it brings us the greatest joy in the world to bring you this news. Myeloma is cancer that affects blood plasma cells (leukemia and lymphoma are the other two blood cancers).
A woman who battled blood cancer for years without success finally halted the disease with turmeric, it has been reported.


Widget not in any sidebars


Dieneke Ferguson is now leading a normal life after giving up on gruelling treatments that failed to stop it.

Doctors say her case is the first recorded instance in which a patient has recovered by using the spice after stopping conventional medical treatments.

With her myeloma spreading rapidly after three rounds of chemotherapy and four stem cell transplants, the 67-year-old began taking 8g of curcumin a day – one of the main compounds in turmeric.
Curcumin is the component in turmeric most heavily studied for medicinal benefits. Eight grams of curcumin would take far too much powdered turmeric to get to that amount since kitchen turmeric only contains 2% curcumin. Ferguson's tablets cost her $67 (£50) every ten days and she continues the routine today. Her cancer cell counts are now negligible.
The doctors, from Barts Health NHS Trust in London, wrote in the British Medical Journal Case Reports:
To the best of our knowledge, this is the first report in which curcumin has demonstrated an objective response in progressive disease in the absence of conventional treatment.
READ: Woman Cured Terminal Brain Tumor With Cannabis Oil After Chemo Failed
The experts, led by Dr Abbas Zaidi, said some myeloma patients took supplements alongside conventional medical treatment but that,
…few, if any, use dietary supplementation as an alternative to standard antimyeloma therapy. In the absence of further antimyeloma treatment the patient plateaued and has remained stable for the past five years with good quality of life.

The biological activity of curcumin is indeed remarkable [including its] anti-proliferative effects in a wide variety of tumour cells. 
Curcumin has been featured in over 50 studies and is said to fight pain, Alzheimer's, depression, high blood sugar/blood pressure, inflammation, candida and so much more. Readers using turmeric will want to beware that high amounts can drastically drop blood pressure, blood sugar and even thin blood! Be very careful and always talk to your doctor before taking and look up all drug interactions.
RECIPE: Easy Two Ingredient Turmeric Bombs To Fight Inflammation
Professor Jamie Cavenagh appears amazed at Dieneke's recovery, but doesn't want everyone to think curcumin is the panacea for cancer. He said,
A lot of my patients take curcumin at different stages of their treatment. I don't object to it.

Dieneke's is the best response I have observed and it is clear-cut because we had stopped all other treatment.
Daily Mail recorded Ferguson's response:
Mrs Ferguson, who runs Hidden Art, a not-for-profit business helping artists market their work, is frustrated doctors cannot recommend the spice and wants more research carried out.

She said: 'I hope my story will lead to more people finding out about the amazing health benefits of curcumin.'
We are so happy for Dieneke's recovery and that her team of doctors recorded the case – we hope this calls for further interest!
Natural Blaze reached out to Dieneke for more information on her supplement and we will update if we hear back.
SEE Also:
She Healed Psoriasis With This Diet After She Was Offered CHEMO For Her Skin
Don't forget to share this news with your friends!
---
Copyright (C) 2018, All Rights Reserved. 
DISCLAIMER: This article is not intended to provide medical advice, diagnosis or treatment.
---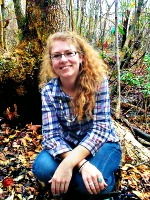 Heather Callaghan is a Health Mentor, writer, speaker and food freedom advocate. She is the Editor and co-founder of NaturalBlaze as well as a certified Self-Referencing IITM Practitioner.
Get a nifty FREE eBook – Like at  Facebook, Twitter and Instagram.