History of the Pink Ribbon: From Color Peach and Prevention to a Marketing Scam
The Birth of the Ribbon
The idea of using a ribbon as a symbol first appeared in 1979, when Penney Laingen tied yellow ribbons as a message of hope of seeing her husband again, who was taken hostage in Iran. Then in 1990 AIDS activists colored the ribbon red for those dying from the disease. At the same time, the Susan G. Komen Breast Cancer Foundation was seen giving out pink visors, not ribbons, to breast cancer survivors during the Race for the Cure. It took a few small occurrences to give birth to the pink ribbon and make it the symbol of breast cancer awareness.
Charlotte Haley's Message about Money for Prevention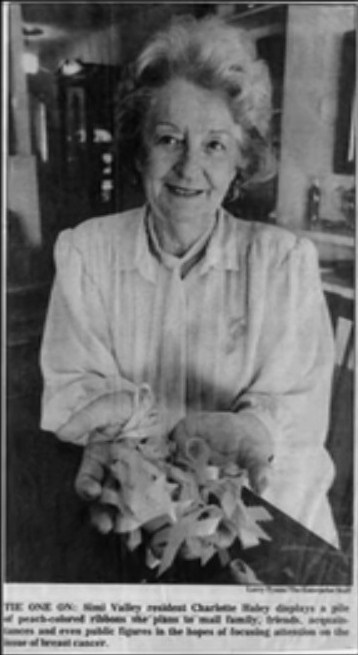 In 1992, news sources discovered a woman named Charlotte Haley who hand made peach-colored ribbons to raise awareness that not enough money was being used for the research of cancer prevention.
Each ribbon was attached to a card that read:
The National Cancer Institute's annual budget is $1.8 billion, only 5% goes for cancer prevention. Help us wake up legislators and America by wearing this ribbon.
(In 2013 cancer prevention and control received 6.2% of the NIC's budget). Haley gave out the cards at local supermarkets and spread thousands of them during the years. It was a grass roots movement that asked for no money, only awareness. But in 1992 the editor of the magazine Self and cosmetic companies turned the symbol into what is it today – a money-driven popularity-seeking marketing campaign.
"There is a value to awareness, but awareness of what, and to what end? We need changes in the direction the research is going, we need access to care—beyond mammograms—we need to know what is causing the disease, and we need a cure. The pink ribbon is not indicative of any of that," told Barbara Brenner to MAAM (Brenner was the executive director of Breast Cancer Action in San Francisco at that time).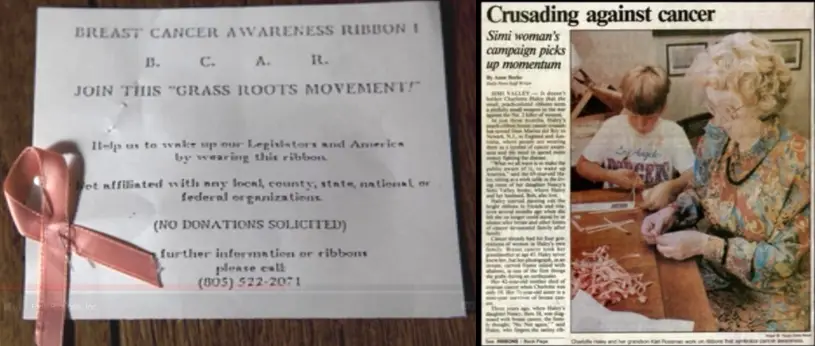 The Color Pink Was Chosen
In 1992, ribbons of every color started spreading everywhere, and The New York Times even named it "The Year of the Ribbon."  Suddenly every organization felt like they needed a ribbon to symbolize their message to the world.
That same year the editor in chief of Self was designing a magazine cover for a Breast Cancer Awareness Month issue, when she read Haley's story and decided that she wanted to add the ribbon on the cover. Self contacted Haley and promised international attention if she allowed the magazine to use her ribbon. To their surprise, Haley declined saying the magazine was "too commercial." The magazine's lawyers then told the editor she could still use the ribbon legally, as long as she changed the color. The magazine chose pink.
There is no direct quote from Self as to why pink, or why this shade, but there are many guesses. Ellie Schneider from Offray, a ribbon manufacturer, called it "a pastel pink without being too washed-out or powdery-looking…one of [their] best-selling colors." Margaret Welch, director of the Color Association of the United States said that pink is "the quintessential female color." She called it "playful, life-affirming [and]… health-giving."
"It's about body image, it's about nurturing—it's certainly about femininity," told NABCO's Executive Director Amy Langer, to The New York Times Magazine in 1996.
After the Self breast-cancer edition of 1992 came out, Evelyn Lauder, Estée Lauder senior corporate vice president, promised to put pink ribbons on every cosmetic counter across the country, and soon the pink ribbon symbol was seen everywhere. Haley's peach ribbon and her mission were immediately forgotten.
Perhaps in the very beginning, the pink ribbon had good intentions: it was about still feeling beautiful and feminine after a devastating illness, and having hope that the "cure" will one day be found. But very soon it became what many now believe is nothing more than a money-grabbing campaign.
Cause Marketing
Starting in the 1980s the U.S. corporate world first discovered cause-related marketing. Research had shown that more than half of consumers would switch to a different store or brand if it had a good cause. Reebok adopted the human rights issue, and soon Avon, a cosmetics company, took on the issue of breast cancer. It created the first pin with to go with it: a large ribbon, half-pink and half-gold with a rose for women, and a smaller pin for men. In two years it raised $10 million. Then followed other ribbon items: pink brooch, heart-shaped mirror with an enameled ribbon, angel statues, teddy bears, nightshirts and sports clothes, and even credit cards. In 1996 between 80 and 100 companies got involved in the pink ribbon cause.
"Billions of dollars have been spent on awareness, but about 40,000 women have been dying from breast cancer every year since the '90s," writes Ann Silberman on the patient's perspective of industry's money spending.
Very soon some started questioning if the pink ribbon is doing much good, or if it is trying to make cancer seem "safe," and that the campaign is being used for corporate companies to gain popularity, while almost none of the raised money goes to prevention and research, but only to "awareness."
In 1998, when MAMM, a former New York-based magazine with a focus on breast cancer, was writing about the ribbon, they reported that many found it a "distraction."
"I wish that they could also hear from all the women who have been through breast cancer, and resent the effort to make it pretty, and feminine, and normal. It's not normal. It's horrible. It has to be stopped," said Barbara Ehrenreich, writer and social critic, in Pink Ribbons, Inc. (2011).
What about the Komen Foundation?
It is surprising to know, but Komen – the company most commonly associated with the pink ribbon – failed to patent the ribbon for the company in 1998. It had however collected the ribbon-raised dollars from many companies that used the symbol for donations to breast cancer. Komen later trademarked its logo of a pink "running ribbon."
Since the creating of the ribbon, the breast cancer incidence rate in the U.S. stayed similar, and while everyone is aware, there seems to be no progress in the direction of the "Cure."
"…The most powerful organization in the breast cancer universe, Susan G. Komen, has raised $2.5 billion over the last 20 years, much more than many corporations will ever earn. Yet Komen channels only a fraction of those funds into research or systems to help those who are already seriously sick. Most of that money continues to go to a breast cancer 'awareness' campaign that is now painfully out of date," wrote Laurie Becklund for Los Angeles Times (she died of breast cancer this year).
More about the history of the pink ribbon and its influence today is explained in Pink Ribbons, Inc. (2011):
Thanks for reading! For more on the truth about Breast Cancer Awareness (and the search for real "cures") join hundreds of thousands watching 'The Truth About Cancer,' a nine-part docu-series you can watch free until Oct. 21. 
This article appeared first at AltHealth Works where you can find more provocative and investigative reporting on health topics that matter to you. The alternative health movement will be mainstream soon! Like on Facebook, follow on Twitter
Get Natural Health News Delivered