India's Covid-19 Task Force & "Experts" Exposed : Conflicts of Interest in Our Public Health System
By Yohan Tengra
Introduction
Who is India's Anthony Fauci? The mainstream media does not even know the names of the members who sit in India's National task force, but in this article I, Yohan Tengra, have exposed not just the names of those who are sitting in this task force, but also how they are financially connected to the pharmaceutical industry and vaccine mafia.
This task force has been responsible for the aggressive push to lockdown, mandatory mask requirements, forced testing of asymptomatics, dropping ivermectin and hcq from the national protocol, suppressing vaccine adverse events, and a lot more!
Along with the task force, I have also exposed how India's prominent public health personalities, who regularly appear in the media and TV, like Srinath Reddy, NK Arora, VK Paul, Gagandeep Kang, Vijayraghavan, Balram Bhargava, Randeep Guleria, are connected to the Gates Foundation, Rockefeller Foundation, Wellcome Trust, USAID, the World Bank, and other aspects of the global deep state.
Other topics covered in this piece:
– How task force members get the science on Covid-19 totally wrong, which proves that their conflicts influence their recommendations
– India's illegal HPV vaccine trials, ICMRs role in it, and how a similar incident repeated with the Covaxin Phase 3 trials
– How Gates foundations baby PHFI gets funding from the vaccine mafia, and holds deep influence in controlling India's health policies
– How this research is the basis on which a legal notice has been sent to the Health Minister, calling for prosecution and removal of all the people who are exposed to have conflicts of interest
– How the Gates Foundation was never really kicked out of India, which is false believed by many people.
– When the accused have been confronted about conflicts of interest in the past, how have they responded?
– How the accused have lied on record about not having conflicts of interest
This piece is the culmination of my research into India's medical deep state that I've been conducting since the last 2 years. Journalists reading this, who regularly bring these cast of characters on to discuss the medical aspects of the Covid-19 pandemic must confront them with hard questions and facts which are explored in this article.
Disclaimer
If you don't understand what the New World Order/Great Reset/ Agenda 2030 for Sustainable Development really is, and/or don't understand the players/forces behind it and how they work, I'd recommend you first view/read the material I've posted below, before proceeding with the article, so that you can get full value out of it.
1) Documentary series & articles exposing Bill Gates and his role in hijacking the public health system, among other areas : https://www.corbettreport.com/gates/
https://www.coreysdigs.com/downloads/the-gates-of-hell-remove-the-gatekeeper-and-seal-the-doors-bookshop/
https://childrenshealthdefense.org/defender/foundations-investments-influence-covid-research/
http://www.newdemocracyworld.org/culture/gates.html
2) Bill Gates' Influence & Activities in India
https://www.rupe-india.org/57/primer.html
https://vaccineimpact.com/2020/bill-gates-history-of-vaccine-corruption-inflicting-harm-and-death-on-unsuspecting-people-in-poor-countries/
https://www.tribuneindia.com/news/archive/comment/dangers-of-keeping-the-gates-wide-open-871226
https://thediplomat.com/2021/06/why-are-indians-so-angry-at-bill-gates/
2) Documentary series which explores the forces behind the New World Order (like the Rockefellers which you will see referenced below a lot), their eugenics origins and agenda of wanting to reduce the number of "inferior" people in the world, Agenda 2030 Sustainable development, the Climate Change Scam, and other related subjects : https://www.corbettreport.com/bigoil/
3) Exposing the role of organizations like USAID in advancing the globalist agenda – https://www.corbettreport.com/beware-americans-bearing-gifts-ngos-as-trojan-horses/
https://www.youtube.com/watch?v=CGqdo9jHllc
4) Real role and purpose of the World Bank – https://www.corbettreport.com/so-what-does-the-world-bank-do-exactly/
5) Wellcome Trust Exposed – https://childrenshealthdefense.org/defender/foundations-investments-influence-covid-research/
https://unlimitedhangout.com/2020/12/investigative-series/developers-of-oxford-astrazeneca-vaccine-tied-to-uk-eugenics-movement/
https://unlimitedhangout.com/2021/06/investigative-reports/a-leap-toward-humanitys-destruction/
6) The Global Fund for AIDS, TB & Malaria Exposed – https://www.coreysdigs.com/downloads/is-u-s-aids-90b-taxpayer-dollars-a-global-slush-fund-chpt-2-the-global-fund-bookshop/
7) How India's billionaires (who will be referenced below) are connected to the global deep state – https://www.youtube.com/watch?v=V1YuQZ0CTWk (Hindi)
8) Agenda 21/2030 explained in an Indian context – https://www.youtube.com/watch?v=6QO6dyBIlSU (English)
https://www.youtube.com/watch?v=IJ-wtKm04DU&t=1530s (Hindi)
9) How the Rockefeller Foundation, USAID, Ford Foundation, and others were behind pushing covert eugenics operations in India, in the name of family planning and population control – https://www.youtube.com/watch?v=jlPAL7sHU8w
http://web.archive.org/web/20210405194848/https://www.liberationnews.org/real-agenda-gates-foundation/
10) How all major political parties in India are connected to the global deep state – https://www.youtube.com/watch?v=FBPUv7j8gKU&t=468s
---
Public Health Foundation of India (PHFI)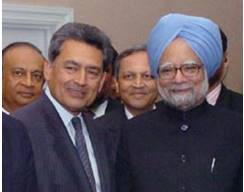 PHFI, a public private partnership started by Ex Prime Minister Manmohan Singh, Rajat Gupta, Bill & Melinda Gates Foundation & Srinath Reddy, has received millions of dollars of funding from pharmaceutical companies, vaccine manufacturers, & dubious philanthropic organizations, which use philanthropy as a front to push hidden agendas which profit vested interests. It was started with initial funding of 65cr given by the Gates Foundation, and 65cr given by the Indian Government, along with a later grant of 35 crores.
This so called PPP has received funding over the years from the Bill & Melinda Gates Foundation, Pfizer, Johnson & Johnson, Rockefeller Foundation, World Bank, PATH, Diamond Jubilee Trust of the Queen of England, USAID, Wellcome Trust, Abbott, Mckinsey, Eli Lily, Glaxosmithkline, Bayer, NIH, & Google!

https://phfi.org/about/financial-information/
Check under "Intimation of Quarterly Receipt of Foreign Contributions" Section
Despite receiving nearly 100 crores from taxpayer money, & having top government bureaucrats sitting on the PHFI governing board, PHFI did not submit itself to the RTI Act, 2005 for the first 6 years of its existence. When it was taken up to the Central Information Commission by a person named Kishan Lal in 2012, the CIC Chief Shailesh Gandhi ruled that it was a public authority under the RTI Act, and hence it must submit itself to the RTI act.
https://ciconline.nic.in/cic_decisions/CIC_SG_C_2011_001273_17356_M_76524.pdf
When Journalist Kapil Bajaj filed an RTI to know the composition of the PHFI board when it was created (2006), the President of PHFI, Srinath Reddy, actually sent him an evidently forged document, which is a punishable offense under the RTI Act. The document is dated 2006, but the designations of some of the members on the board are clearly written many years after 2006. You can find a copy of this document here:
https://drive.google.com/file/d/1bRHsJbkS4XwEifnMiYtvDBZ4IBBJSC8a/view?usp=sharing
In the year 2013-2014, PHFI lost 82 crores to a bank FD scam, which included the taxpayer money it received from the Government of India, and the organization also found itself ensnared in another controversy when a complaint was made against it to the CBI for lobbying and conflict of interest in getting one of its courses accredited from Sree Chitra Tirunal Institute. Despite having lost so much of our taxpayer money, it has still not submitted itself to a CAG audit, and did not take action against those under whos watch the funds were embezzled.
A summary of this can be found in an article written by journalist Kapil Bajaj here – https://dragada.com/kbforyou/2018/02/17/phfis-rs-100-crore-scam-and-ensnaring-of-sree-chitra-tirunal-institute-in-a-corrupt-deal-impostors-club-hurtles-from-fraud-to-fraud-updated/
PHFI has claimed since inception that top Government bureaucrats have sat on its board, including Secretaries of the Ministry of Health and Family Welfare, Director Generals of ICMR, and Director General of Health Services, MOHFW. However, whenever RTI's have been sent by activists to these Government Departments, they always mention that no permission or order has been issued to allow these government servants to sit on the PHFI board.
It is not clear as to whether Government bureaucrats sitting in the PHFI board are getting paid by PHFI (RTI's have been filed to uncover this), but the President, Srinath Reddy, who used to work in AIIMS before he became PHFI president, is reportedly drawing in a salary of 1 crore per annum from the PHFI! If it is revealed in the future that Government bureaucrats on the PHFI board are getting salaries from the funders of PHFI (i.e. pharmaceutical companies, vaccine manufacturers, & fraud philanthropists like Gates, Rockefellers,etc) then that would amount to a serious conflict of interest of such government representatives.
PHFI was mainly created with the motive to start public health universities in India, create a public health cadre in India, and suggest health related policies to the Government. PHFI has created many Indian Institutes of Public Health (IIPH's) all over the country. Land from many states has been allotted to PHFI and grants from various state governments have also been given, but after PHFI lost so much money to the FD scam, it has not been able to build many of the universities that it was originally supposed to, and a lot of its universities are currently running on rented premises.
Many government members as well as heads of billionaire business houses, fake philanthropic bodies & pharmaceutical companies have sat on the PHFI Governing Body in the past, and some continue to sit on the Governing body of PHFI. Those who are sitting in the PHFI board as of March 2020 have been highlighted below in bold letters. Members who are sitting on the PHFI Governing Body as well as Executive committee for the year ending March 2021 have still not been published on the website, despite many months having passed. List of members is referenced here…
Continue reading at Awaken India Movement