US Requires All UK Travelers To Test Negative For COVID, CDC Rules
By Tyler Durden
In a late Christmas Eve surprise, the US government published a statement requiring airline passengers from Britain to test negative for COVID-19 three days before departure.
The Centers for Disease Control and Prevention (CDC) published the statement last night, indicating that the new rule requires all UK travelers to test negative on a polymerase chain reaction (PCR) or antigen tests three days before departure for the US. All passengers must have "written documentation" of their test results.
"If a passenger chooses not to take a test, the airline must deny boarding to the passenger," the CDC said in the statement. 
The announcement comes just days after a mutated coronavirus strain was discovered in the UK.
Despite the world condemning President Trump for calling COVID-19 the "Chinese virus," anti-British sentiment has been developing by foreign media outlets, referring to the UK as "plague island." But remember, if you speak about the "China virus," you are a racist…
The speed at which inbound UK flights were banned due to #Covid19, but not China's, is not lost on anyone, surely. #cdnpoli https://t.co/yUCkvoKq3q

— Mark McQueen (@markrmcqueen) December 25, 2020
The Centre for Mathematical Modelling of Infectious Diseases at the London School of Hygiene and Tropical Medicine warns the new strain appears more contagious and could result in higher hospitalizations and deaths.
President Trump is expected to sign the new order on Friday, Christmas Day.
This week, a handful of airlines, including Delta Air Lines, Virgin Atlantic, and British Airways required passengers to test negative for the virus before boarding flights to New York's John F. Kennedy International Airport. United Airlines has done the same, with testing required for flights from London Heathrow to Newark, New Jersey, Washington DC, or Chicago.
Dozens of countries have already restricted travel from the UK, mainly to prevent the mutated coronavirus spread.
The CDC suggested earlier this week that the new strain could already be spreading across the US undetected.
On Friday, Japan confirmed at least five new cases of the mutated virus after travelers returned from the UK.
The new travel restrictions and testing requirements are setting up the eventual "COVID passports" or "immunity passports" as air travel as we know it will never be the same again.
Full Statement: CDC to Require Negative COVID-19 Test from Air Travelers from the United Kingdom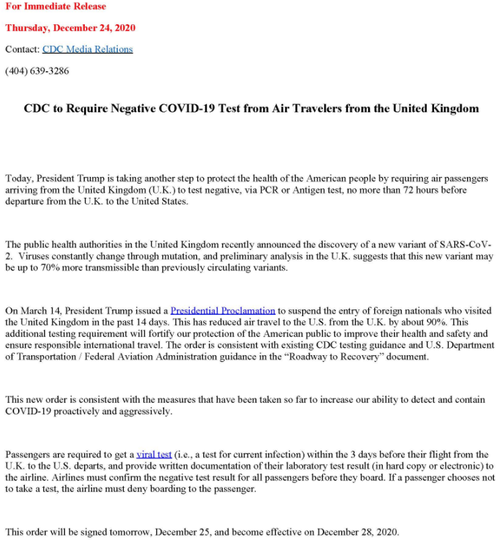 Source: Zero Hedge
Image: Pixabay
Become a Natural Blaze Patron and Support Health Freedom HERE.