NJ Senator Wants Mandatory COVID Vaccinations For School Children Without Exemptions
By Joseph Jankowski
A New Jersey Senator has begun talks with other lawmakers about mandating a COVID-19 vaccination for school children and stripping exemptions that have been used in the past by parents to avoid inoculation.
Despite school aged children being one of the most least at-risk groups, Democrat Senator Joseph Vitale believes the COVID-19 vaccine should be added to the list of shots that are currently a requirement for children to take upon entering public school.
"When it is that a vaccine is appropriate for children, I believe it ought to be included in that list of vaccines that are required for children," Vitale told local news. "I'd like to incorporate it into the other vaccination bill that would require children to get vaccinated as a condition to entering school."
Widget not in any sidebars
While these talks are in a preliminary stage, state lawmakers are also eyeing a separate effort that could require students at the state's public universities to get vaccinated against the virus.
"It's not complicated to decide whether or not to include a COVID vaccine as a condition of school," Vitale said. "The decision is going to be whether or not the vaccine is available, and if the science supports its efficacy."
NJ currently requires children to receive at least one dose of 6 different vaccines upon entering and while graduating through the public school system. The required shots include the Polio, MMR, Meningococcal, Varicella (Chickenpox), and Tdap vaccines.
As it stands currently, parents who provide schools state approved medical or religious exemption can avoid having their children take the inoculations.
The NJ Legislature attempted to do away with religious exemptions last year, sparking resistance from thousands of residents who crowded the Statehouse to demand the exemptions stay.
Media Roundup – NJ Defeat of #S2173 Removal of Religious Exemption #votenoa969 #a969 https://t.co/oxUIgYUGry pic.twitter.com/vfBbZIJeu8

— NJCVC (@njvaccinechoice) January 17, 2020
As noted by NJ.com, making the vaccine a requirement to attend schools could push people into greater skepticism as a recent poll has shown that at least 40% of NJ resident's say they do not plan to get the COVID-19 vaccine when it's available.
"Putting the cart before the horse and saying when it's available everyone has to get it does not build trust," Sue Collins, co-founder of the New Jersey Coalition for Vaccine Choice, told NJ.com. "No medical procedure should ever be mandated for anyone — especially something so new, with so many unknowns and no long-term knowledge at all."
While both NJ Gov. Phil Murphy and Department of Health Commissioner Judith Persichilli have both said there would be no government mandate for the general public to take the COVID-19 vaccine, Assemblyman Gerry Scharfenberger from Monmouth has crafted legislation to ensure that doesn't happen.
"I am by no means anti-vaccine, I am anti-mandatory vaccine," Scharfenberger told New Jersey 101.5.
The Assemblyman has put together an anti-vaccine mandate proposal after hearing concerns from his constituents about the possibility of being forced to take the jab.
Forced vaccination has recently gone from just a topic of discussion to an idea being put in motion.
As we reported earlier in the week, New York Assemblymember Linda Rosenthal has introduced a bill that would mandate individuals receive a vaccination against COVID-19 if public health officials believe sufficient immunity has not been developed through the state's initial vaccine roll out.
According to Dr. Anthony Fauci, safety testing of COVID-19 vaccines on young children and pregnant women could begin in mid to late January of 2021.
CDC estimates show that school aged children have a 99.997% chance of surviving COVID-19 infection.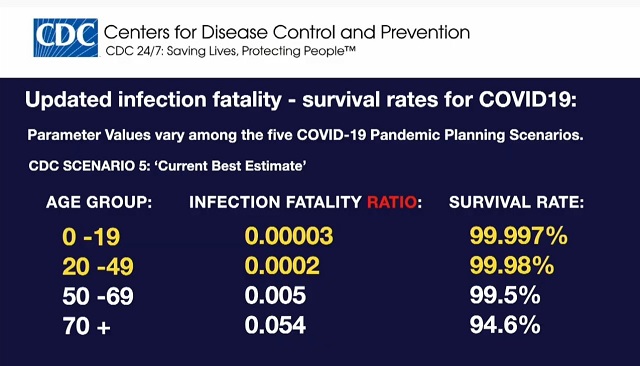 Recently, Pfizer CEO Albert Bourla said that he is "not certain" that the company's vaccine will prevent people from carrying and spreading the virus to others.
The FDA said on Friday that it "will rapidly work toward" authorization of the Pfizer-BioNTech mRNA coronavirus vaccine on emergency basis.
Source: Planet Free Will
Top image: Nenad StojkovicFollow/Flickr
Become a Natural Blaze Patron and Support Health Freedom HERE.