Youth Suicides Soar 57% In Past Decade: Is Social Media To Blame?
By Tyler Durden
The suicide rate among Americans ages 10 to 24 increased by 57% between 2007 and 2018, data published Thursday from the National Center for Health Statistics (NCHS) shows. New concerns are mounting that social media could be contributing to the wave of suicides among younger generations.
Between 2007 and 2018, the national suicide rate among persons aged 10–24 increased by 57.4%. The increase was broad, as it was experienced by the majority of states. -NCHS
On a state-by-state basis, the percentage change between 3-year averages of suicide rates for 2007–2009 and 2016–2018 increased down to 47%. The largest increases were seen in New Hampshire, Oregon, Georgia, Missouri, Oklahoma, and Michigan.
Widget not in any sidebars
Forty-two states had significant increases in their suicide rates between 2007–2009 and 2016–2018, and eight states had nonsignificant increases. Most states had increases of between 30%–60%. Suicide rates in 2016–2018 were highest in Alaska and lowest in New Jersey. – NCHS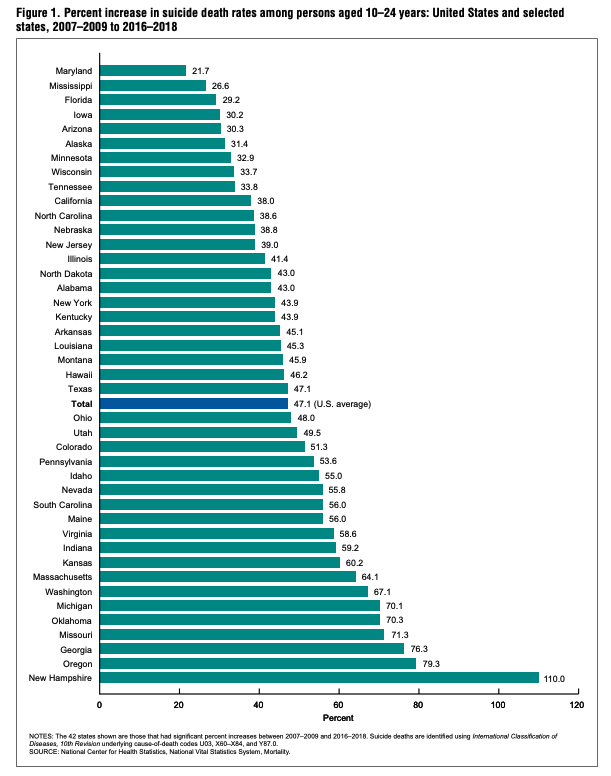 Courtesy of Bloomberg, here's a complete visualization of the youth suicide crisis that has unfolded across the country.
NCHS's data only covered suicides between 2007-2018, but there's reason to believe the trend is continuing, due mostly to the virus pandemic-related stress.
"There are many reasons to suspect that suicide rates will increase this year too, not just because of Covid-19 but because stress and anxiety seem to be permeating every aspect of our lives," Shannon Monnat, co-director of the Policy, Place, and Population Health Lab at Syracuse University, told Bloomberg.
Suicide is the second leading cause of death among youngsters. Readers may recall we covered the troubling trend developing in youth suicides in late 2019. A significant influencer behind the trend could be the proliferation of social media in the last decade.
"There is an independent association between problematic use of social media/internet and suicide attempts in young people," a study recently published in the LWW Journals titled "Social media, internet use and suicide attempts in adolescents" said.
Making matters worse, teen and youth anxiety/depression have sharply risen this year as the virus pandemic, depressionary unemployment, and social unrest, have resulted in a pessimistic outlook for the country.
At the end of June, the Centers for Disease Control and Prevention surveyed almost 10,000 Americans on their mental health. They found symptoms of anxiety and depression were up sharply across the board between March and June, compared with the same time the previous year. And young people seemed to be the hardest-hit of any group.

"Almost 11 percent of all respondents to that survey said they had "seriously considered" suicide in the past 30 days. For those ages 18 to 24, the number was 1 in 4 — more than twice as high. –NPR News
The UK's Royal Society for Public recently ranked the top five social media platforms that impact mental health. It found Instagram, Snapchat, Facebook, and Twitter had the most negative effect on the psychological health of youngsters. 
In a separate report, the use of social media was directly linked to an increase in depressive symptoms in teenagers. 
Days ago, we noted how an older millennial, aged 33, also an Army veteran, killed himself with a shotgun on Facebook Live. The chilling footage circulated across the internet and went viral on TikTok.
Long- and short-term trends suggest the American youth are slipping into the abyss as a suicide crisis is worsening.
Image: Pixabay
Source: Zerohedge