World Health Organization Claims Microplastics in Drinking Water "Don't Appear to Pose Health Risk"
Bottoms up!
From CNN:
They may be in our oceans, rivers and ice but there's little evidence to suggest that microplastics in the water we drink pose a risk to our health.

In its first review on the health risks of plastic in tap and bottled water, the World Health Organization said that microplastics "don't appear to pose a health risk at current levels," but the key finding came with a big caveat — the review said available information was limited and more research was needed on microplastics and how they affect human health.

"We urgently need to know more about the health impact of microplastics because they are everywhere — including in our drinking water," said Dr. Maria Neira, director of the Department of Public Health, Environment and Social Determinants of Health at WHO.

WHO said it did not recommend routine monitoring of microplastics in drinking water and said that concerns over microplastics should not distract water suppliers and regulators from removing microbial pathogens, such as those causing deadly diarrheal diseases.
Nothing to worry about, folks!
It's reportedly raining plastic in the Rocky Mountains, but according to the World Health Organization (WHO) that's nothing to make a fuss over!
It's raining plastic in the Rocky Mountains.

'The most important result that we can share with the American public is that there's more plastic out there than meets the eye. It's in the rain, the snow. It's a part of our environment now.' https://t.co/xe06aftswE

— Wilderness Society 🌳 (@Wilderness) August 13, 2019
A study in 2017 found "up to 95 percent of river-borne plastic polluting the world's oceans pours in from just ten rivers" — 8 in Asia and 2 in Africa — the Daily Mail reported.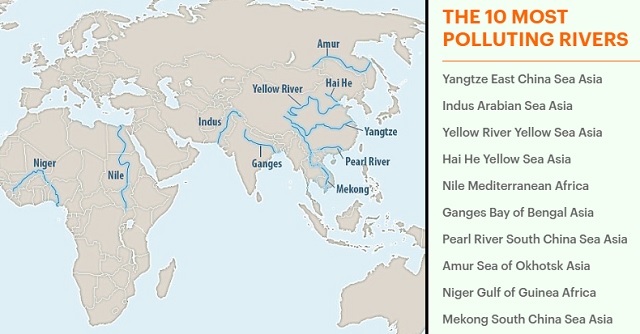 Microplastics are also being recklessly put in a wide-range of female vanity products:
Beauty industry-funded study suggests microplastics are not that harmful to the environment https://t.co/JWDW8G3zHp pic.twitter.com/3iGbBqGs5L

— Motherboard (@motherboard) October 17, 2018
Nonetheless, as our ruling oligarchs insist, it's Western women having babies that's destroying the planet!
Is it immoral to have babies in the era of climate change? https://t.co/SvfHiBZjOG pic.twitter.com/XUoqgOHn4Q

— National Post (@nationalpost) August 19, 2019
Drink your fluoride, take your damn vaccines, eat bugs and chug down those microplastics!
The rich:
– Fly on private jets everywhere
– Make billion dollar industry deals
– Own the companies that dump poison into the oceans

Media:

The poor:
– Eats a burger

Media: "Wow thanks for killing the planet, dick."

— 🏳️‍🌈 Kate 🏳️‍🌈 (@_Vs_The_World) August 22, 2019
Follow InformationLiberation on Twitter, Facebook, Gab and Minds.
This article was sourced from Information Liberation.
Subscribe to Natural Blaze for health freedom and natural living headlines to your inbox. Follow Natural Blaze on Twitter and Facebook.