He Rearranges Leaves, Sticks, Stones to Create Glowing Land Art
By Heather Callaghan, Editor
A Scottish sculptor has harnessed both nature and art in a majestic and bittersweet collision.
Andy Goldsworthy creates transitory works of "land art" by carefully arranging leaves, sticks, stones and other offerings from nature.
It's not often that you see someone willing to create art that can be washed away. Andy's "transient and ephemeral" kind of work has caused people to surmise that he's making a statement about the "fragility of Earth."
   See: Any Skill Level Of Art Quickly Reduces Stress Levels
Widget not in any sidebars
According to Top13, Goldsworthy said his art was more complex than that:
When I make something, in a field or street, it may vanish but it's part of the history of those places…

In the early days my work was about collapse and decay. Now some of the changes that occur are too beautiful to be described as simply decay. At Folkestone I got up early one morning ahead of an incoming tide and covered a boulder in poppy petals. It was calm and the sea slowly and gently washed away the petals, stripping the boulder and creating splashes of red in the sea. The harbor from which many troops left for war was in the background.
Please enjoy the following photos of Andy Goldsworthy's land art and check out the videos below if you'd like to see him in action.
      See: Sacred Geometry Patterns In Nature & Art Reduce Your Stress
Andy's Amazon Collection | Website
All photos (c) Andy Goldsworthy, courtesy of Top13
What do you think of Goldsworthy's land art?
Is it something you'd like to try and how do you feel about the transitory nature of this kind of art – would it bother you to see it washed away?
Andy's Amazon Collection | Website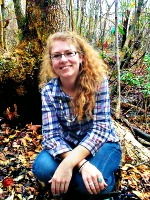 Heather Callaghan is a Health Mentor, writer, speaker and energy medicine practitioner. She is the Editor and co-founder of NaturalBlaze as well as a certified Self-Referencing IITM Practitioner.
Get a nifty FREE eBook – Like at  Facebook, Twitter and Instagram.