Instantly Boost Happiness By Simply Taking a Look at the Nature Around You
By Heather Callaghan, Editor
If You Want to Be Happy, Stop and Smell the Roses
A UBC researcher confirms that spending time outdoors is a direct line to happiness.
Stopping to smell the roses is not just a luxury intended for the dreamers of the world. It's not a luxury at all. It is not frivolous. It could mean your very life. If you needed proof that short jaunts in nature can change your world, look no further…
In fact, Holli-Anne Passmore says if people simply take time to notice the nature around them, it will increase their general happiness and well-being.
 See: Actor Aziz Ansari Stumbled On This Truth When He Deleted Internet From Phone
Widget not in any sidebars
Passmore, a PhD psychology student at UBC's Okanagan campus, recently published research examining the connection between taking a moment to look at something from the natural environment and personal well-being. A recent study involved a two-week 'intervention' where participants were asked to document how nature they encountered in their daily routine made them feel. They took a photo of the item that caught their attention and jotted down a short note about their feelings in response to it.

Other participants tracked their reactions to human-made objects, took a photo and jotted down their feelings, while a third group did neither. Passmore explains that examples of nature could be anything not human built: a house plant, a dandelion growing in a crack in a sidewalk, birds, or sun through a window.
     SEE: 5 Weird Mood Hacks Sure To Quickly Lift You Up
Passmore was overwhelmed by the response – over 2,500 photos and descriptions were submitted by the 395 study participants.
She was really overwhelmed by the sheer power of emotional response that a bit of nature had on wellness.
There is scientific documentation that people who live in greenspaces generally seem to be happier, and may live longer than those who don't. (Children who grow up around natural surroundings, including greenery by their schools, have less attention problems.)
Passmore is taking that research further. This study is one of a series by a research team in UBC Okanagan's psychology department known as the "Happy Team" which is providing evidence that nature can increase happiness.
You Don't Have to Sojourn to a Mountain Top…
"This wasn't about spending hours outdoors or going for long walks in the wilderness," Passmore says. "This is about the tree at a bus stop in the middle of a city and the positive effect that one tree can have on people."
The difference in participants' well-being–their happiness, sense of elevation, and their level of connectedness to other people, not just nature–was significantly higher than participants in the group noticing how human-built objects made them feel and the control group.
Have you ever sought refuge in nature during a difficult time in your life? I sure have. I was unexpectedly losing one of my parents. Walking off my anxieties in a fertile, public park with the cool air is the only thing that kept me sane. While they lay in an ICU bed (unbeknownst to me, never to come back), I stole away for minutes at a time to clear my head among the trees away from the wires and the beeps and the sterilized hospital environment with its buzzing fluorescent lights. I felt like I couldn't breathe unless I was at the park.
If you don't have the patience for meditation (I'm with you, there) then make this your daily, calming practice. From now on, you have permission to stop and smell the roses – to notice bees and ponder on how birds hop when they forage for food. Unplug from wires, connect with nature. The small investment in time will ground you and help you get some clarity and strength to handle your life.
DISCLAIMER: This article is not intended to provide medical advice, diagnosis or treatment.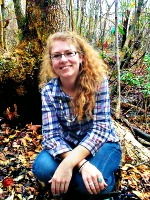 Heather Callaghan is a Health Mentor, writer, speaker and energy medicine practitioner. She is the Editor and co-founder of NaturalBlaze as well as a certified Self-Referencing IITM Practitioner.
Get a nifty FREE eBook – Like at  Facebook, Twitter and Instagram.