Anti-Inflammation Molecule Identified in Maple Syrup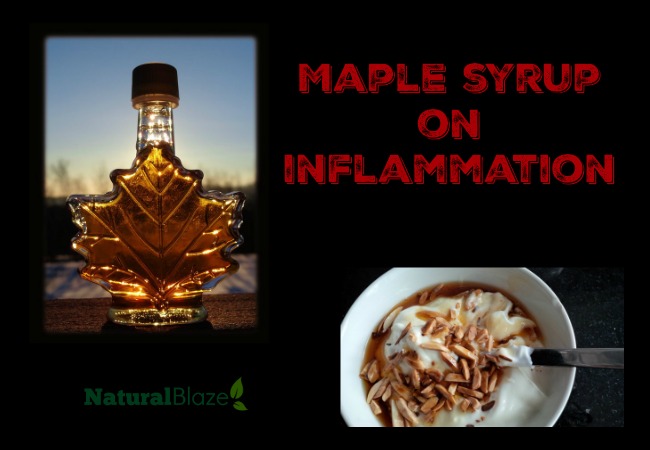 Researchers have identified a molecule found after the maple syrup process that might fight inflammation.
Natural health lovers have seen many alternative sweeteners come and go. Yet, the tried-and-true and humble maple has been waiting in the wings for its turn. It's only recently that maple syrup started turning heads. Maple water is even giving coconut water a run for its money. I've tried just about every "natural" sweetener out there only to find the claims of health and taste overblown. Agave, honey, stevia, xylitol and coconut sugar all have their unpleasant sides. Even raw, manuka honey can spike your blood sugar. In all the years I've given maple syrup a chance, I haven't had any complaints. Is it weird to call a sweetener endearing? Maple can really draw a person in and perhaps finally answer one of the biggest conundrums – but what sweetener should I use for that? New research may just pique all of our interest in maple even more.
Maple syrup can be whipped into just about anything to make a real-food frosting and if you need a sweetener in your coffee, tea or cocoa – you just can't go wrong with maple. The next time you need a dessert, consider first if maple will work – its mineral content adds to your body, unlike processed sugar. How exciting to find that a closer look reveals a potential remedy for inflammation.
Widget not in any sidebars
Here's what the research on maple syrup says:
Researchers identify molecule with anti-inflammatory properties in maple syrup
Arthritis and other inflammatory diseases could someday be treated with medication containing a molecule from maple syrup. Université Laval researchers demonstrated in a recent study that quebecol, a molecule found in maple syrup, has interesting properties for fighting the body's inflammatory response.
Discovered in 2011, quebecol is the result of chemical reactions during the syrup-making process that transform the naturally occurring polyphenols in maple sap. After successfully synthesizing quebecol and its derivatives, Université Laval researchers under the supervision of Normand Voyer, a chemist with the Faculty of Science and Engineering, evaluated its anti-inflammatory properties. They called on colleague Daniel Grenier of the Faculty of Dentistry, who developed an in vitro model for determining the anti-inflammatory potential of natural molecules. "We take blood cells called macrophages and put them with bacterial toxins," explained Professor Grenier. "Macrophages usually react by triggering an inflammatory response. But if the culture medium contains an anti-inflammatory molecule, this response is blocked."
The researchers carried out tests that showed quebecol curbs the inflammatory response of macrophages, and some derivatives are even more effective than the original molecule. "The most powerful derivative has a simpler structure and is easier to synthesize than
quebecol," said Normand Voyer. "This paves the way for a whole new class of anti-inflammatory agents, inspired by quebecol, that could compensate for the low efficacy of certain treatments while reducing the risk of side effects."
The study, coauthored by Sébastien Cardinal, Jabrane Azelmat, Daniel Grenier, and Normand Voyer, was published in a recent issue of the journal Bioorganic & Medicinal Chemistry Letters.
Source:
Jean-François Huppé
Media Relations
Université Laval
418-656-7785
[email protected]
Heather Callaghan is an independent researcher, natural health blogger and food freedom activist. You can see her work at NaturalBlaze.com. Like at Facebook, Twitter and Instagram.