Make Your Own: 10 Herbal Tea Blends You Can Grow in Your Garden
By Tess Pennington, Ready Nutrition
From a sustainability standpoint, herbs are one of the easiest plants to produce. Many of the herbs we grow are perennials and will produce for many years. Drying herbs is a great way to save money and use for cooking or to enjoy for aromatherapy needs. That said, we haven't completely put these perennials to their full potential.
Harvesting Your Tea

Widget not in any sidebars

Growing your own tea blends is almost effortless. Many herbs prefer to be on the "dry" side during the growing season, so you can skip a few waterings and they will be ok. In fact, many herbs can be grown in containers on a sunny window sill or patio. Most herbs will fit into a 1 gallon sized growing pot, but make sure your container has a nice-sized hole so that surplus water can drain away. Herbs do not prefer to have their roots sitting in water saturated soil. A larger volume of potting mix dries out more slowly, so use the largest pot you can. It's better to combine two or more plants in a large pot than to use several little pots. Further, fertilize your herbs once a month to ensure your herbs have adequate nutrients.
Prune your herbs regularly to harvest the tender leaves. This will also keep plants bushy and discourage them from blooming; often, blooming will change the flavor of the leaves. Harvest the oldest stems individually with scissors rather than pruning the whole plant to keep a steady stream of leaves coming.
As well, if you are using fruit trees, when you are pruning them, save the leaves and cut leaves or blossoms to make teas with. Harvest the leaves, blossoms, or the root in some cases such as ginger, dandelion and echinacea, and thoroughly dry outdoors for 10 days, or use your food dehydrator at a setting of 95 degrees Farenheit until completely dry.
Some of the easiest herbs I have grown are:
Mint
Lemon Balm
Sage
Thyme
Dandelion
Calendula
Lavender
Stevia
And, the easy fruit bearing plants I grow are:
Rose hips
Lemons
Blackberry
Strawberry
Harvesting Tips:
Most herbs are at their peak just before they bloom.
Harvest all your herbs at the end of the season, once a frost is forecast. You can dry the herbs whole and store for winter teas or for use as seasonings.
Harvest early in the day, after the dew has dried, but while the herbs are still lush in the cool of the morning.
Be careful not to tear or crush the herbs until you are ready to use them. You don't want to waste any of the essential oils.
Tea blends can make great gifts for friends and family! You can easily make homemade tea bags out of coffee filters. For an easy tutorial, follow these instructions. My family usually enjoys a cup of tea with raw honey and some fresh lemon, but that is not always the case. Here are some of my favorite tea blends.
10 Delicious Herbal Tea Blends
Tension Soother
4 teaspoons lavender
3 teaspoons chamomile
2 teaspoons lemon balm
2 teaspoons rose petals


Tummy Tamer
1 teaspoon Calendula
1 teaspoon chamomile blossoms
1 teaspoon fennel seed


Sleepy Blend
1 teaspoon chamomile
1 teaspoon lemon balm leaves
1 teaspoon catnip
1 teaspoon lavender flowers
Immune Booster
4 tablespoons rose hips
1 tablespoon cinnamon chips
1 teaspoon hibiscus flowers
1 teaspoon fennel seed
½ teaspoon lemon peel
Cold/Flu Tea
2 cinnamon sticks
4 teaspoons thyme
1 teaspoon sage leaves
1/4 cup dried echinacea leaves
¼ cup dried peppermint leaves
¼ cup dried lemon balm leaves
3 tablespoons dried elderberries or ¼ cup dried elder flowers
Autumn Blend
3 teaspoons nettle leaf
2 teaspoons spearmint leaf
2 teaspoons lemon balm
1 teaspoon mullein leaf
two teaspoons dandelion leaf and root, combined
1 teaspoon rose hips
1 teaspoon ginger root (dried cut and sifted)
4 cups of water
Winter Blend
Juice of two oranges (approx 1 cup)
3 teaspoons dried pomegranate seeds
1 4″ cinnamon stick
1 teaspoon whole cloves
4 black tea bags
2 tablespoons honey
4 cups water
Pregnancy Blend
*check with your healthcare provider to make sure this blend is right for you.
3 teaspoons dried red raspberry leaves
2 teaspoons dried rose hips
1 teaspoon dried nettle
½ teaspoon cinnamon chips
½ teaspoon dried fennel seed
¼ teaspoon dried spearmint leaves
PMS Tea Blend
2 teaspoons chamomile
2 teaspoons nettle
2 teaspoons red raspberry leaf
1 teaspoon lemon balm
Chai Spice Mix
3 tablespoons cardamom
3 tablespoons cinnamon
4 teaspoons ground cloves
2 teaspoons nutmeg
1/8 teaspoons cayenne pepper
2 teaspoons allspice
4 teaspoons ground ginger
Tea Preparation:
To make a nice tasting cup of tea, first warm your teapot with scalding-hot water. Then place your ingredients directly in the pot (or tea ball). For a mild tea, pour 1 cup of boiling water over 2 tsp. of dried leaves or blossoms. Cover the cup with a lid or plate (this helps keep the vital nutrients and beneficial properties of the herbs in the cup and not evaporating into the air). Let steep for at least 10 minutes. Serve the hot drink "as is", or — if you wish — flavor it with grated fruit rind, lemon juice, or honey. For a greater medicinal effect, make a decoction by gently boiling 1/4 cup of the tea blend in 1 qt. of water until about half of the water has boiled off. Drink 2-3 small cups of the tea daily.


Storing Your Tea Blends
After mixing up your favorite blend of herb tea, add them to a glass jar and store in a dark place. I use large mason jars for storing my tea blends. As a general rule, figure on about one to two teaspoons of dried herb(s) per cup of tea. (Double the amount of ingredients if you're using fresh herbs.) And remember that you can get more flavor out of the leaves, blossoms, and berries if they are crushed before using.
Consider adding these medicinal plants to your garden and enjoy them year after year. In addition to tea blends, many of these herbs can be used for other natural medicinal needs, such as salves, lotions, tinctures and decoctions.
Tess Pennington is the author of The Prepper's Blueprint, a comprehensive guide that uses real-life scenarios to help you prepare for any disaster. Because a crisis rarely stops with a triggering event the aftermath can spiral, having the capacity to cripple our normal ways of life. The well-rounded, multi-layered approach outlined in the Blueprint helps you make sense of a wide array of preparedness concepts through easily digestible action items and supply lists.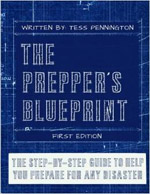 Tess is also the author of the highly rated Prepper's Cookbook, which helps you to create a plan for stocking, organizing and maintaining a proper emergency food supply and includes over 300 recipes for nutritious, delicious, life-saving meals.


Visit her web site at ReadyNutrition.com for an extensive compilation of free information on preparedness, homesteading, and healthy living.


This information has been made available by Ready Nutrition
Originally published March 9th, 2015


If you found this article useful, please Vote for Ready Nutrition as a top prepper web site.