How to Seal Food in Mylar Bags
by Gaye Levy
One of the very first things I learned to do when I started to prep was seal food in Mylar bags. As simple as this sounds, you would not believe the gyrations I went through to make this happen.
Holy moly, I used plastic tubing, a FoodSaver vacuum sealer, a yardstick, a straw, and iron and ironing board.
Yes, it all worked but it was a bit tedious in that four hands were required to get the job done. I also have to tell you that there were a lot of laughs during the process as the pinto beans went flying everywhere!
Years later, my method is so much simpler that I tend to forget about my initial struggles. With that in mind, today I am sharing a step by step show and tell, describing how you can easily move your beans, oatmeal and rice from their store packaging to Mylar (or metalized) bags.



Widget not in any sidebars


Step by Step – Storing Bulk Foods in Mylar Bags with Oxygen Absorbers
The first step is to get your supplies in order. You will need Mylar bags, oxygen absorbers, a cheap hair straightening iron (not pictured), and a jar that will hold the oxygen absorbers until they are needed.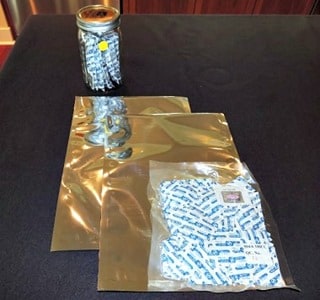 Have all of your bulk foods ready to go before you open up the package of oxygen absorbers. Here is a 25 pound bag of wheat. I will also be packaging some oatmeal.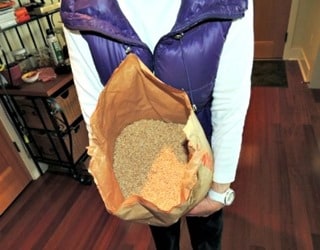 I find it easiest to pour bulk items into a Pyrex measure before adding it to the Mylar bag. Note that I have set the opened Mylar bag in a container so that it stays upright during the filling process.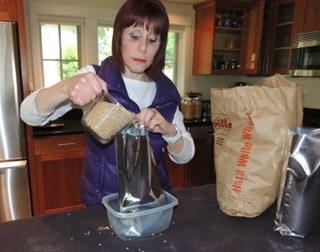 You can also scoop your food into the bag using a measuring cup. If you are brave (I am not) you can pour your bulk food directly from its original package into the bag. This is the oatmeal and, as you can see, the oxygen absorbers are still tucked away in their jar, limiting their exposure to open air until the very last minute.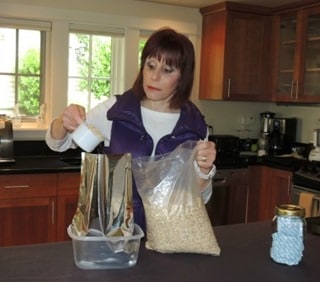 When you fill the bag, you are going to want to leave a few inches of head space. This will allow you to create a big fat seal across the top. But before starting the sealing process, you are going to want to create an assembly line of filled bags so that when you are ready, you can seal them all at once.
Once your bags are filled, pop an oxygen absorber inside. For a 1 gallon bag, the rule of thumb is to use a 300 cc oxygen absorber. For a larger, 5 or 6 gallon bucket-sized bag, 2,000 ccs. I take the oxygen absorber and stuff it down into the middle of the food. I did not get a picture of stuffing an oxygen absorber into the bag, but here is a photo stuffing one into a mason jar that will be sealed using my FoodSaver. (This was covered in the article How to Use a FoodSaver for Vacuum Canning.)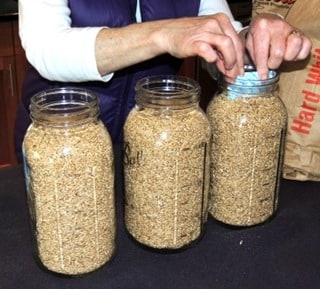 Before moving on to the next step, you are going to want to put the lid back on your jar of unused oxygen absorbers or seal them back up in a bag using a FoodSaver or clamp of some sort. Personally, for me it is a lot simpler to put them in a jar. Simple is good.
Remember that cheapie hair straightening iron I mentioned? You are now going to run the iron across the top of your bag (or bags if you took my advice and created an assembly line). Do not worry if there appears to be air stuck in the already-sealed bag. As the oxygen absorber does its job, the bag full of food will compress and become brick-like. Trust me on this.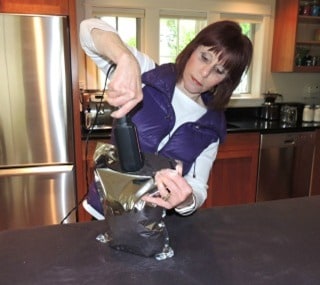 When done, get out your sharpie pen and label the outside of the package with both the contents and the date.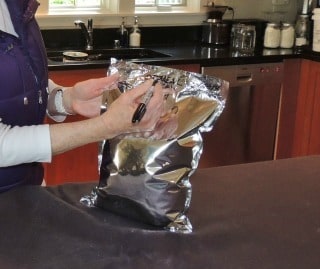 Three hours later, two of the filled bags I filled are like bricks. It appears that the top bag of oatmeal will take a bit longer for the oxygen absorbers to do their job. This is normal – some foods will take longer to compress than others.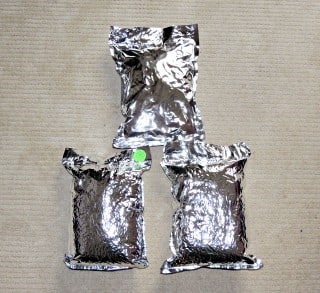 The Next Step
Once you are satisfied that the bags are sealed properly, you can move them to your food storage pantry. This can be a closet or basement or even under the bed. You do want to be mindful of the six enemies of food storage and keep your food as cool and dry as possible. For extra protection, especially from critters, pop your brick-like foods packages into a tightly lidded bucket and you will be golden.

For More Information
There are many articles on Backdoor Survival that can help you manage your food storage. Here are a few to get you started: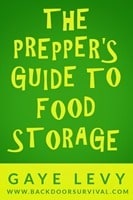 The Final Word
Packaging your own bulk foods for emergency use is a great way to save money. Walmart, Costco, and LDS Canneries sell bulk foods at reasonable prices and with a little bit of work on your part, can provide you and your family plenty to eat when the grocery store shelves are bare.
Not only that, the money you save will go a long way towards helping you fund the extra flashlights, water filters, and other items you need to keep you secure and safe when the stuff hits the fan.
Until next time, keep on prepping!
Enjoy your next adventure through common sense and thoughtful preparation!
Gaye started Backdoor Survival to share her angst and concern about our deteriorating economy and its impact on ordinary, middle-class folks. She also wanted to become a prepper of the highest order and to share her knowledge as she learned it along the way. She considers her sharing of knowledge her way of giving back and as always, we at Natural Blaze are grateful for her contributions. If you would like to read more from Gaye Levy, check out her blog at http://www.backdoorsurvival.com/. You can also visit her Facebook page or sign up for updates by email by clicking on Backdoor Survival Updates.